On Feb. 1, 2018, I had a faith shift. I literally woke up that morning and realized that somehow I need to leave my Christian affiliation behind. My way of doing that was to say that Jesus is no longer my lord and savior, but rather my friend and guide.
A young man who had left his Christian faith behind asked me what that looks like to have Jesus as my friend and guide.
I had been thinking about sharing this, so his question inspired me to write this post.
You see, I know so many people who have left the church, and left Jesus as well. Yet maybe they don't realize they don't have to leave Jesus along with the church.
I now give myself permission to cherry pick the Bible and take verses out of context, just like most Christians I know do. So these scriptures inspire me:
 "I no longer call you servants, because a servant does not know his master's business. Instead, I have called you friends, for everything that I learned from my Father I have made known to you." Jesus. John 15:15


"Not everyone who calls out to me, 'Lord! Lord!' will enter the Kingdom of Heaven. Only those who actually do the will of my Father in heaven will enter." Jesus. Matthew 7:21

The way I see Jesus as my friend is that I cultivate a practice of being connected to him throughout the day. My goal is to feel his presence, just like a friend walking beside me, all the time. If I can feel his presence, then I can be attuned to his guidance as well.  This picture, painted by 8-year-old Akiane Kramerik which can be found here, is how I envision Jesus.
One of the ways I do this is by simply saying, "Jesus, remember when?" and then I tell him times when I felt his blessing in my life. For example, I might share a really profound memory like this one:
"Jesus, remember when I was at the darkest time of life when I was 20 years old, alone in Sri Lanka, and I watched the movie Godspell 7 days in a row? I sensed your loving presence during the movie and my spirits lifted so I could make a change that was so important. I so appreciate how you were there for me."
"Jesus, remember yesterday when I was feeling so sad, and then my time with Kim, my prayer partner, and friend, lifted me up so much. I know you were there with us. Thank you for Kim being in my life."
I am grateful to my former spiritual director, Jade Mazarin, for the idea of saying to Jesus, "remember when?" Although she is no longer my spiritual director since we agreed that we have such different ideas about Jesus that we were no longer compatible. I will always cherish the encouragement she gave me when I was a Christian and be grateful for her loving guidance.
Another way I connect with Jesus is to go to a special place which I visualize.  I spend time with him, talking to him about my problems and listening to his input. Or I share my gratitude, my hopes, and my dreams. I feel his encouragement and love.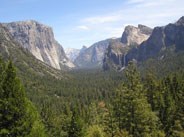 I usually imagine the place where I had my first major revelation in my life. I was on the last night of a 4-day backpacking trip from Tuolumne Meadows in Yosemite. My girlfriends and I were camping overlooking the Yosemite Valley. Looking up at the stars while I was cozy in my sleeping bag getting ready for sleep, I sensed a voice saying to me,
"You need to travel and get out of your present environment."
I ended up traveling a year later for 13 months and my life was changed drastically for the better.
I like to go to this special place where there is a beautiful view of the Yosemite Valley and do something called the Emmanuel Approach. I love this method of connecting with Jesus because there is no need to consider him Lord and Savior. I have been practicing this beautiful technique for about 4 years now, and through it, I have really fostered a closer relationship with Jesus.
You can learn more about The Immanuel Approach here.
Sometimes I go to my special place and just hang out with Jesus with a method inspired by Greg Boyd. Here is an excerpt from an article he wrote about this:
"And a major part of this is making regular time to imagine Jesus. I put on some beautiful music, turn out the lights, and then meet Jesus, listen to what he has to say to me (always the same wonderful stuff he says in the NT, but now it's to me personally). I sometimes take walks with Jesus, and we sometimes go back into the past and redo wounding memories." Greg Boyd
Finally, I take what I call "soul pauses". I am often doing these live on this Facebook page every two or three hours throughout the day. I stop and pray, meditate on scripture, do affirmations, visualize, sing, dance, laugh and do many other things which you can find on this page. These activities help me to connect with Jesus.
Whenever I pray, I include Jesus in my prayers. I like to start my "formal" prayers by saying, Father-Mother God, Dear Jesus…"
I have a longer time of connection with Jesus every night when I call my friend Kim Broniman who loves Jesus and doesn't judge me for my beliefs about him. I feel so encouraged and my faith grows as we both notice how Jesus is working in our lives.
Jesus may or may not be God incarnate. I don't think I need to know this for sure in order to have him as my friend and guide. I just sense that he continues to guide me and be with me every moment during my day, and the more I can sense his leading and love, the more peaceful and joyful I am.
And the more peaceful and joyful I am, the more I can tune into his guidance and do those things that help me do things to fulfill what I believe is my divine purpose–to build the Vegan Utopia Ecovillage. 
I also sense Jesus guiding me to people who can guide me along this path, including having the ability to live according to my values which I perceive as being Jesus values. I believe that when I live according to these values, Jesus can help me more because I am following his commandments.
"Whoever has My commandments and keeps them is the one who loves Me. The one who loves Me will be loved by My Father, and I will love him and reveal Myself to him." Jesus. John 14:21
I don't think Jesus stops loving me if I don't obey his commandments. But I think he is more able to reveal himself to me and thus I can receive the wise guidance I need to be most effective in the work I am doing.  

I hope this is helpful, and I would love to hear your comments if you are seeking to know Jesus outside of the box of Christianity.